Most of the people standing in line are not there to buy or sell anything – they've brought household and personal items along for repair.
The scene brings to mind the hit BBC TV series The Repair Shop, which involves a group of experts restoring dilapidated old possessions and heirlooms.
But this is a repair shop with a difference. It's the new frontline in the battle to tackle society's growing mountain of waste and protect the environment.
The reuse and repair business was opened recently by Remade Network, a grassroots social enterprise which wants the public to rethink their relationship with their possessions.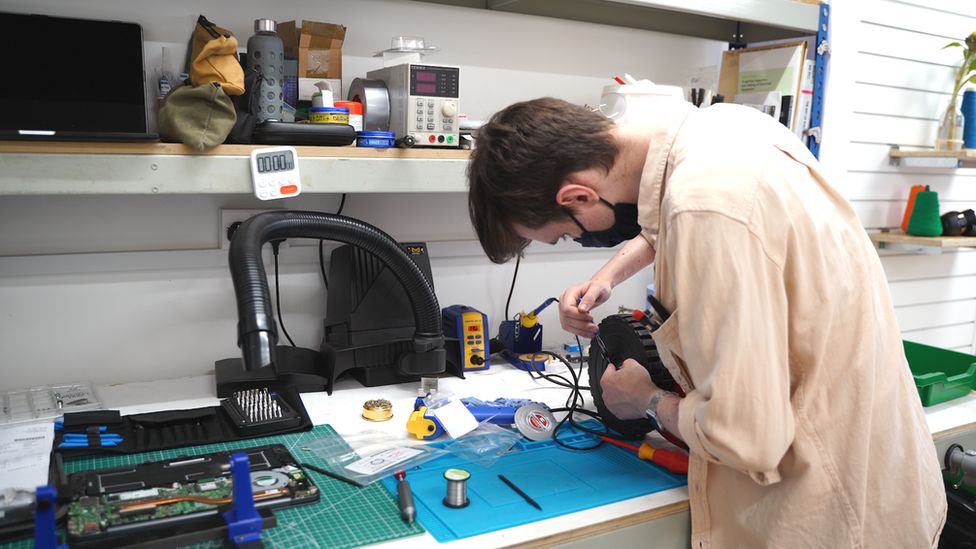 It's the brainchild of Sophie Unwin, who initially launched a pilot project in a community centre in Glasgow's Cranhill area before setting up its permanent base in Govanhill.
"We want to see a radical change to throwaway culture and that's what we hope to provide through this shop," she explains.
"It's a model we are establishing across the city so it's not just one shop. It's a whole series of projects where people can easily recycle, reuse and repair things in their communities, to make it easier and more affordable."
The enterprise has its work cut out. A study carried out two years ago by the Royal Society of Chemistry estimated that there were up to 40 million unused gadgets such as mobile phones and laptops in UK homes.
The good news is that business has been brisk since the Remade shop opened in April.
Ross Cameron, who works as a technician at the Govanhill store, says he's fixed a lot of general household goods since he started.
"We've had music boxes, clocks, hairdryers, record players, radios, hedge trimmers and mowers – everything under the sun in terms of electrical stuff," he explains.
"That's in addition to phones, laptops, desktop PCs, tablets, and iPods. Anything the customer brings in, we will try to fix it."
The shop also draws local customers who want textiles such as jeans, fabric bags and shirts repaired. Others bring along much-loved broken ornaments in the hope of having them restored to their former glory.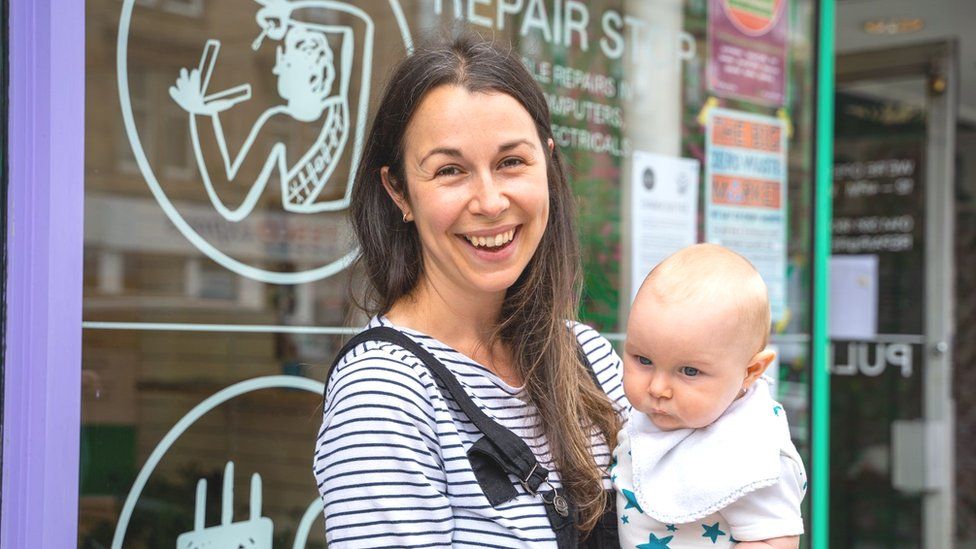 Clare Skelton-Morris is perhaps typical of the kind of customer the business attracts.
She is making her second visit to the shop, along with baby Josh, having had some earrings repaired there previously.
This time she is clutching a record player which is no longer working.
"I came here to get it fixed and donate it as well. We have two and we don't need this one any more," she explains.
"To bring something to the shop and know its going to be repaired and get a second lease of life is a really positive thing, I think.
"I'd much rather the record player went to a good home where it will be loved and lots of records played on it."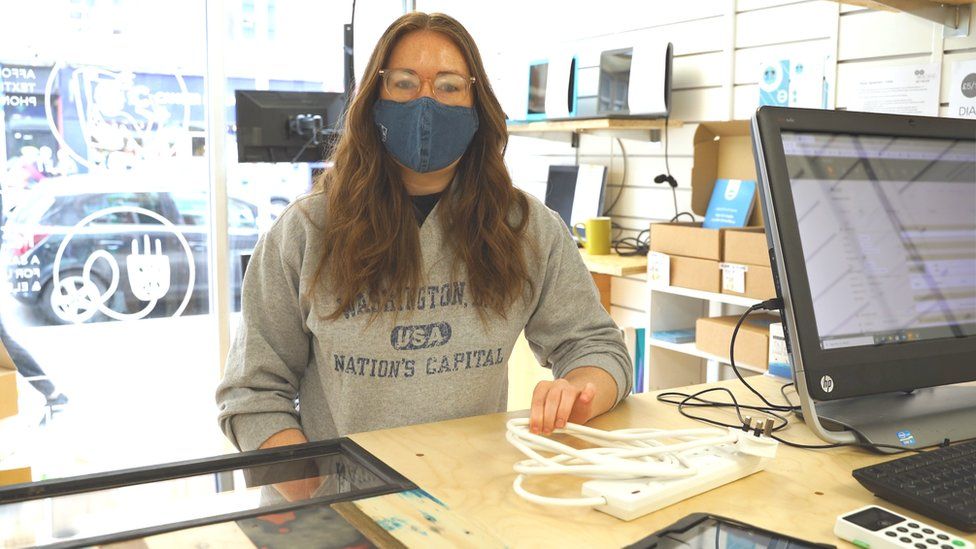 Another repeat customer, Ellen Vanderhoven, appears in the shop to collect an extension cable that's been repaired.
She says she had a "lightbulb moment" when she broke the equipment.
"My immediate response was, well that sucks – I guess I will go to an online retailer like Amazon and buy another one.
"Then I thought – hang on, there's absolutely no need to do that – I know this place is open just down the road.
"It's not an expensive repair – just £6. It is probably more than a brand-new item would cost, but there is a larger cost to the planet and the people involved in producing an item like that."
Remade Network has had to boost its staffing in order to cope with demand.
Having started initially as a band of one, Sophie Unwin says the network now employs 11 – with two more on the way soon.
Part of their work has involved refurbishing unwanted computers for redistribution to those most in need.
So far they have passed on well over 1,000 computers donated by Glasgow City Council.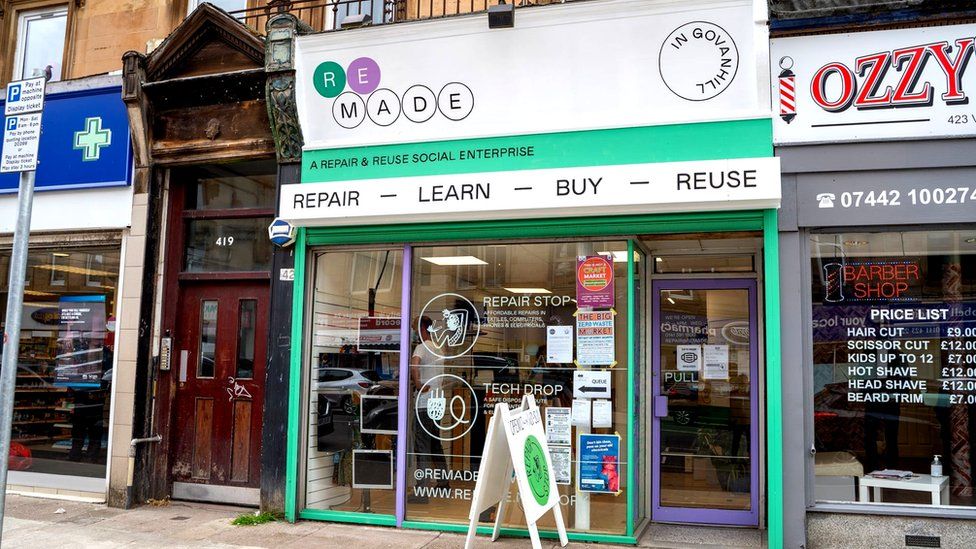 "We have passed the computers on to groups like single families, refugees and school kids who particularly during the pandemic have been cut off and haven't had a connection to the outside world."
The enterprise is not a charity. It receives some funding from charitable and other sources but much of its income comes from repairs and sales of refurbished phones and computers.
Sophie explains: "We are a company and all our profits are reinvested into our business and our social purpose.
"We want to operate as a viable business and but we also want to have a big social impact."
Judging from the response of customers, the impact is already being felt.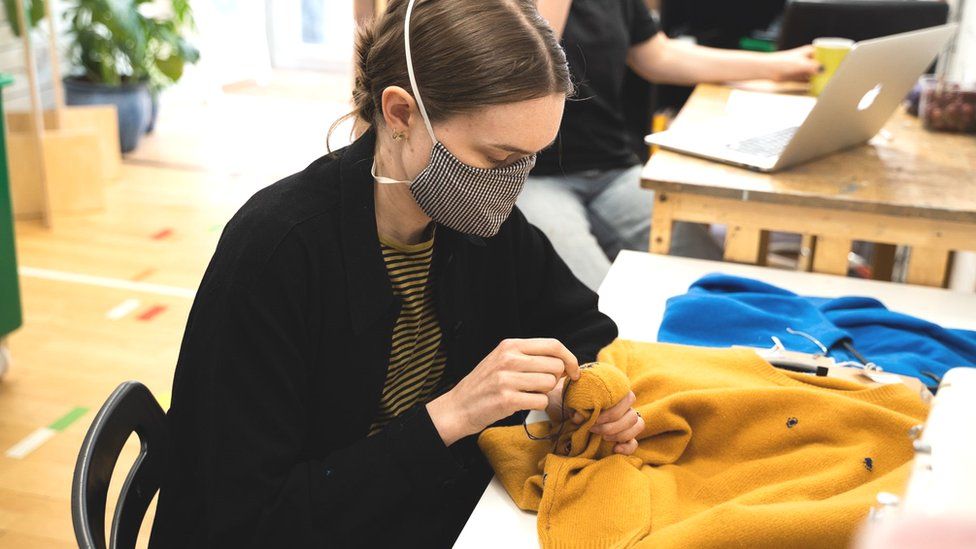 Ellen Vanderhoven says it is "amazing to have this resource so close".
"If there could be one of these kinds of projects in every neighbourhood, or at least a couple in every town, then I am sure it would help everybody start making behavioural shifts," she adds.
That sentiment is shared by campaign group Zero Waste Scotland.
"Repair hubs, such as these, are absolutely brilliant because they provide an easy route for people to fix their broken appliances, clothes and lots of other household items," says the organisation's revolve manager, Sam Moir.
"These hubs matter because, currently, Scotland wastes far too many products, often after a short period of time, which adds to our carbon emissions.
"Keeping existing materials and products in use, known as the circular economy, would save us money and the planet at the same time."